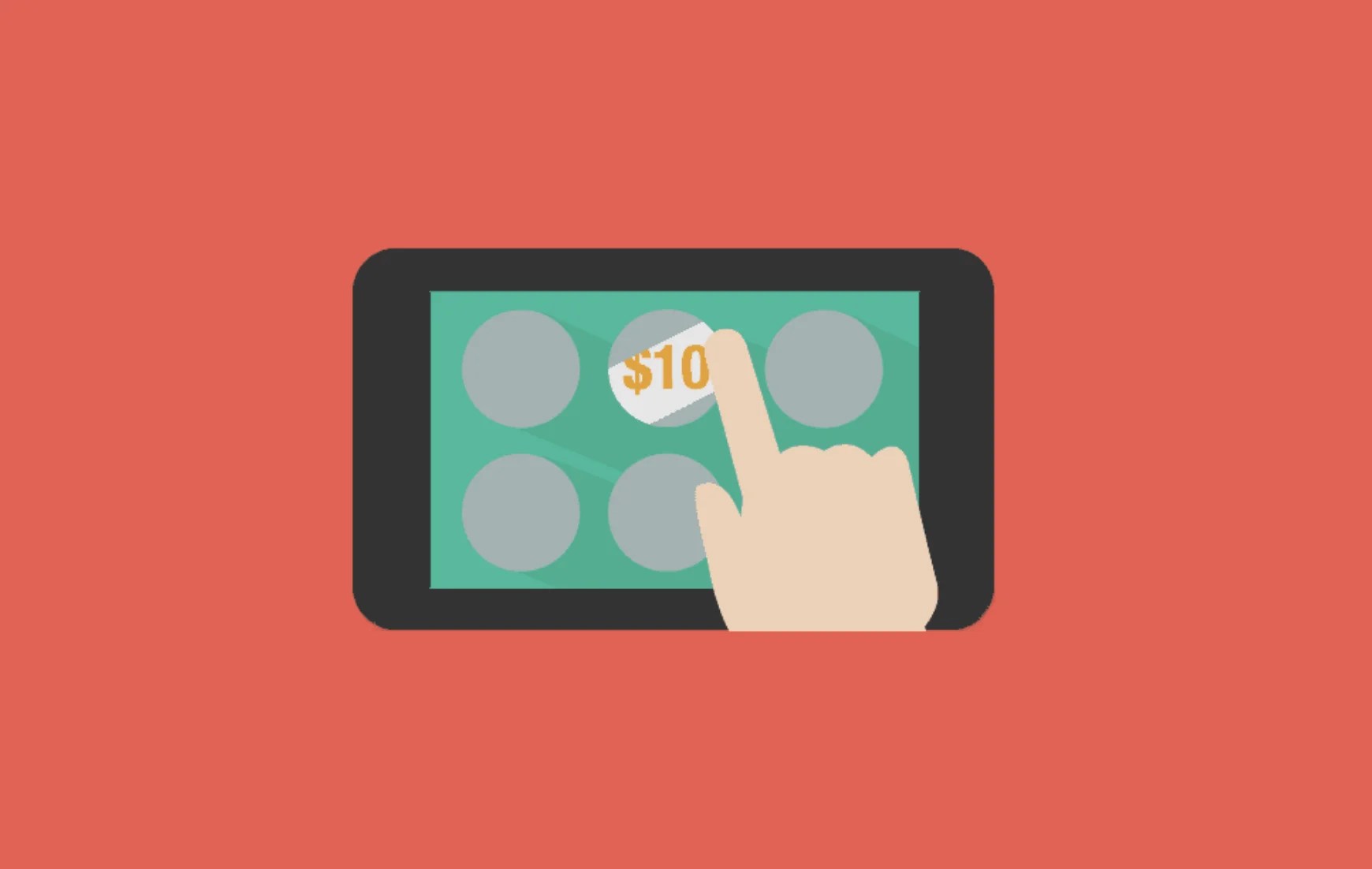 Scratch cards are better known in online casinos under the English term "scratch cards" and belong to the category of instant lotteries. The existing fields are scratched free by the player either digitally or with a coin. The participant will then find out directly whether he or she has won or not. A case from the US state of Oklahoma shows that participation in such an instant lottery can also be dangerous in extreme cases, in which a scratch card millionaire was murdered by her husband.
What is the payout percentage for scratch cards?
The average payout percentage for scratch cards depends on whether the player buys a ticket online or offline. According to our research, attractive payout rates of sometimes over 95% can be achieved with online scratch cards. This is the case, for example, with the popular scratch cards Merlin's Millions (95.17% RTP), Pig Wizard (95.82%) or Wish upon a Jackpot (96.06%).
On the other hand, anyone who buys a scratch card at a lottery acceptance point has to accept significantly lower payout rates. For example, Sachsen Lotto publishes a meager payout ratio of 47.00% for the "Glücksschwein" scratch card. The average winning probability is given as 1 in 4.85, which means that on average the player will win at all every five tickets. The ticket price here is only one euro.
In view of an RTP value of 47% as in the case of the "Lucky Pig" ticket, we can unfortunately only come to the conclusion that scratch cards are not worthwhile. In online casinos, the situation is different, at least in individual cases – here at least a payout rate is offered that is often well above the 90% mark.
In short, a scratch card is a ticket for an instant lottery. The corresponding fields have to be scratched off here and, depending on the conditions of participation, the player usually wins if he scratches off at least three of the same symbols on a scratch card. Incidentally, the first scratch card in Europe was issued in 1978 by Loterie Romande from Switzerland.
While the minimum age for buying a scratch card in Germany and Switzerland is 18 years, in Austria it is possible for young people from the age of 16 to buy a scratch card.
Possible maximum winnings and stakes in scratch cards
In our example of the "Glücksschwein" scratch card from Sachsen Lotto, the main prize is only 5,000 euros. Even more disappointing is the fact that the odds of winning the top prize are listed as 1 in 500,000. From this it can be concluded that there are often small winnings, especially with this scratch card, but an impressive jackpot is not made available here.
Things are a bit different with the "Diamant 7" scratch card, for example, which costs 20 euros. "Winnings of up to one million euros" are possible here. Even with Lotto's "CASH" scratch card, there are still "prizes of up to 100,000 euros" for a ticket price of 5.00 euros.
In online casinos, it is usually not possible to win millions with "scratch cards". For example, players in the Merlin's Millions scratch card have the chance to win a main prize of 250,000 euros.
In the Gorilla Go Wild scratch card, the main prize is 1,000 times the previous bet. And with the Pig Wizard scratch card, the highest possible win is even capped at 100 times the stake. By the way, under certain circumstances there is also a risk of becoming addicted to lottery tickets. For example, in February 2021 we reported on an American real estate agent who bought lottery tickets for $1 million a week.
Conclusion
Every casino player has to answer the question of whether scratch cards in the best online casinos are worthwhile for themselves. The average payout rate for the attractive online scratch cards is sometimes up to 95%, which means that instant lotteries on the net can achieve payout values ​​similar to virtual slot machines. From our point of view, however, participation in such an instant lottery at the kiosk next door is not very promising. Here the participants are sometimes offered payout quotas that are below the 50% mark.