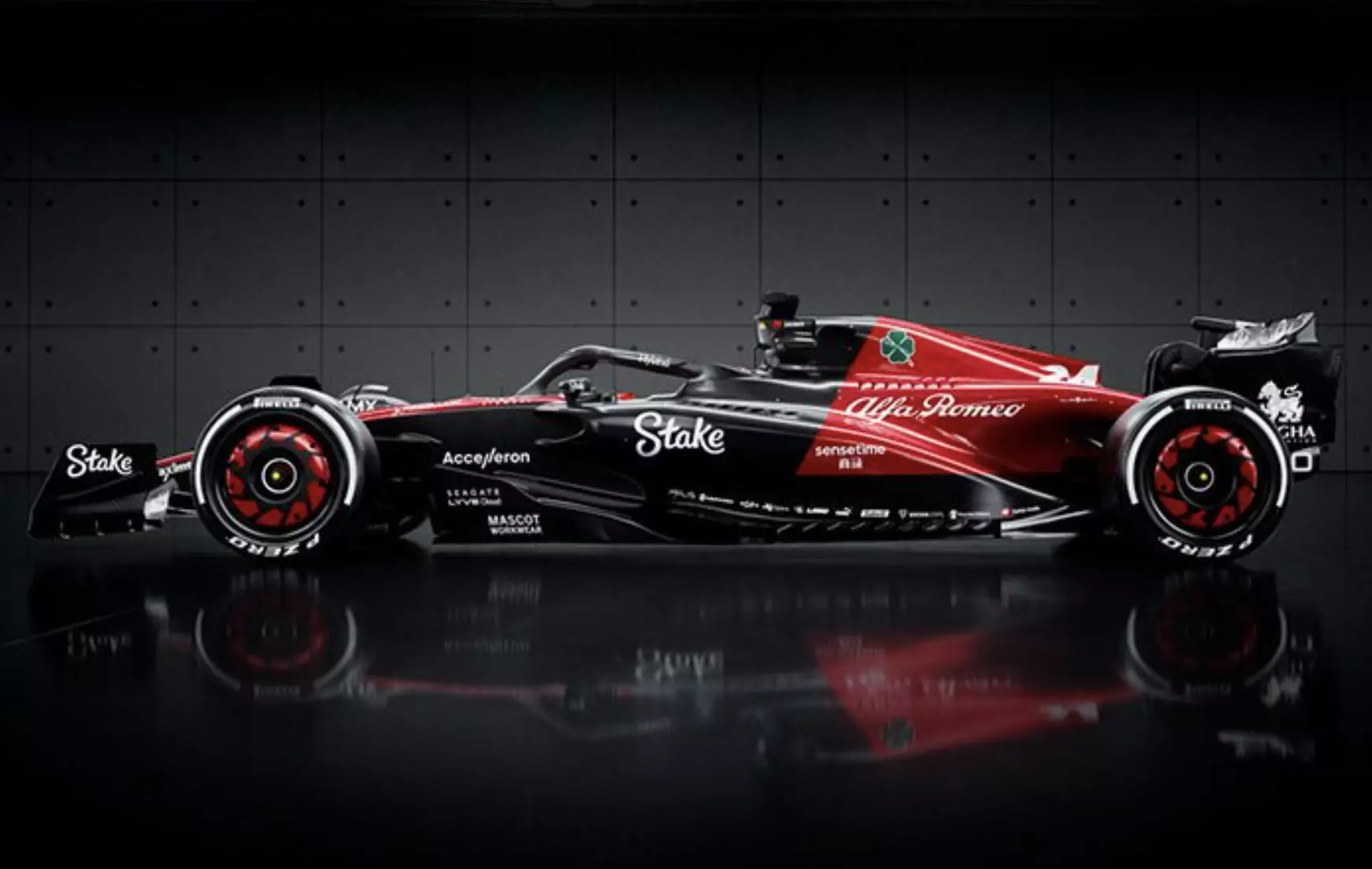 The 74th Formula 1 World Championship started a few days ago with the Grand Prix in Bahrain. The Alfa Romeo racing team attracted unwanted attention during the preparations. The reason for this is the new title sponsor – the crypto casino Stake.com. Is a gambling provider morally justifiable and permissible as the main sponsor of a Formula 1 racing team?
Just last November we reported that a real Formula 1 car drove through a casino in Las Vegas. Now, however, a Formula 1 car has attracted unwanted attention for a different reason. When the Alfa Romeo racing team (formerly Sauber) presented its new racing car in Zurich in February, a large "Stake" company logo could be seen on the Formula 1 car. The Krypto Casino is the new title sponsor of the Formula 1 racing team from Switzerland.
How much money will Alfa Romeo get for the deal with Stake.com?
Unfortunately, there are no officially confirmed numbers on this yet. The only thing that is certain is that the cooperation between the racing team and the crypto casino was initially agreed for three years. However, experts assume that Stake.com will have put about 75.5 million francs on the table. With Formula 1 racing taking place across the globe, Stake.com will be seen globally in the new season. This year, the racing team is also officially appearing in public under the name "Alfa Romeo F1 Team Stake".
Stake.com is a crypto casino owned by Medium Rare N.V. is operated. Players can only process payments with cryptocurrencies such as Bitcoin, Litecoin, USDT, Ethereum or Dogecoin. Stake was founded in 2017. The gambling provider does not have a license in Germany and many other countries.
Stake.com has already attracted attention in the recent past because the provider offered high amounts, especially to well-known streamers, so that they could play at Stake. In a slightly older article, we also asked ourselves why so many casino streamers play at Stake.com. Stake.com is also an official sponsor of Everton FC, an English Premier League football club.
Is an online casino even permissible as a Formula 1 sponsor?
Since Alfa Romeo is a racing team from Switzerland, the Federal Casino Commission is responsible for monitoring. This is the official gambling authority in Switzerland. A spokeswoman for the authorities told tagesanzeiger.ch that the authorities were aware of the cooperation and would "if necessary initiate an investigation" to find out whether there was a violation of the advertising ban for gambling.
As a sponsor of Alfa Romeo, Stake.com becomes problematic at the latest when Formula 1 is a guest in countries where there are gambling advertising bans, for example. For example, it is already forbidden in Great Britain to advertise gambling offers (Grand Prix on July 9, 2023). A similar ban is also to apply in Belgium from June of this year (Grand Prix on July 29, 2023). At the time of the World Cup at the end of last year, we asked ourselves why crypto and gambling providers are World Cup sponsors.
Formula 1 racing calendar 2023 (excerpt):
March 19: Saudi Arabian Grand Prix
April 2: Australian Grand Prix
29 April: Azerbaijan Grand Prix
May 7: Miami Grand Prix
21 May: Emilia-Romagna Grand Prix (Italy)
May 28: Monaco Grand Prix
Conclusion
While several F1 racing teams have parted ways with crypto exchanges such as FTX as sponsors in the recent past, Alfa Romeo has been looking for a sponsor from the crypto or gambling sector. It is questionable whether the Formula 1 cars in the guise of Stake.com will actually be allowed to do their rounds in all countries this season or whether advertising bans will throw a spanner in the works for the Alfa Romeo and Stake.com racing team.