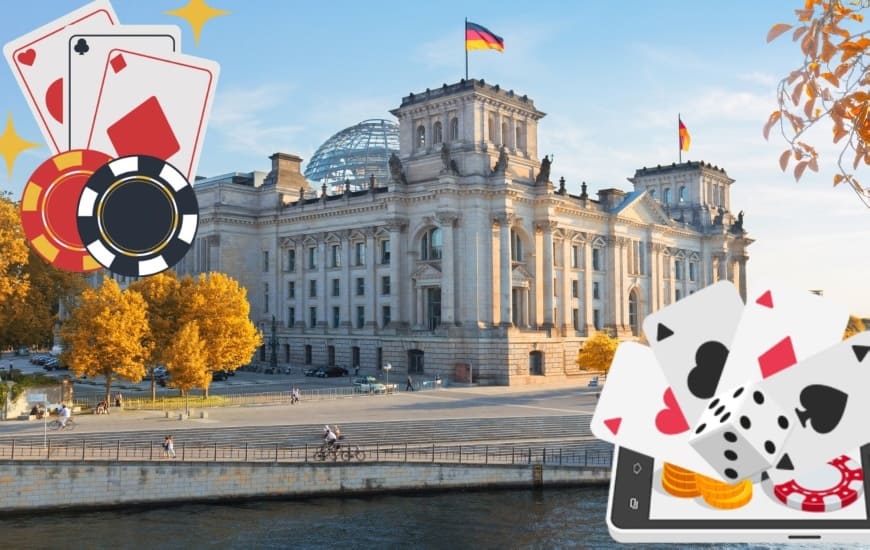 In the past weeks and months there have been repeated discussions about online gambling in Germany. It is to be regulated with the new State Treaty on Gaming from 2021. But what should happen to the online casinos that are already active in Germany? Some media representatives have regulations for a transition phase.
The NDR was able to see a resolution which new rules should be available for the transition phase in the area of gambling. Those responsible for the state chancelleries in Bavaria, Hamburg, North Rhine-Westphalia and Berlin have drawn up the new template. The rules should apply to the time when the new state treaty is negotiated but not yet in force.
Online casinos in Germany should be regulated
In Germany, the Prime Ministers of the federal states had already agreed in March 2019 to regulate online gambling in the area of ​​sports betting, online casinos and poker. The draft of the new State Treaty on Gaming is known in some parts and I have repeatedly presented the main discussions about it.
In recent weeks and months, however, there has been a blockade in some federal states. Federal states led by SPD such as Lower Saxony or Hamburg wanted to crack down on online casinos from foreign providers. The gambling regulator in Hamburg even filed a criminal complaint against Tipico and Bwin because they offer online casino games in addition to sports betting.
There are even several federal states that vote for not licensing sports betting or online casinos to providers in the future by classifying them as unreliable. Lower Saxony recently asked several payment service providers to stop transferring funds to online casinos.
Federal states such as Hesse and Schleswig-Holstein preferred to tolerate the offers, as they would be regulated anyway next year.
Enforcement against online casinos that would be illegal in the future
The decision restricts enforcement against unauthorized gaming offers to providers who can be expected to continue to evade regulation in the future. One probably sees it as "harmless" if gaming operators already offer online gaming, but comply with the requirements of the new gaming law (as far as it is technically possible). The template therefore states:
The enforcement against unauthorized gambling offers will therefore be concentrated until June 30, 2021 on those providers who are likely to want to evade the prospective future regulation. […] The providers are to be given a transition to the regulations of the State Treaty on Gaming 2021, provided that they are already adapting their business practice to the anticipated future legal situation and restricting their offer accordingly.
However, it remains unclear who should control the behavior. The nationwide gaming authority, which is to be created under the new State Treaty on Gaming, does not yet exist.
The regulations on the loss limit have also been specified. In the area of ​​sports betting, it is set at 1,000 euros per month, whereby possible profits are offset against it. This rule has hardly been applied since the licensing process for sports betting has still not been completed.
The transitional arrangement nevertheless states that up to 1% of the players can request an extension of the limit. Up to 30,000 euros are possible. However, it is necessary to provide proof of income. Furthermore, players with higher limits should be controlled more precisely in the area of ​​gaming behavior. However, the appearance of these controls is left open.
Compromise and fear of the failure of the State Treaty on gaming
It is a compromise for the transition period. In the negotiating circles of the state chancelleries, there is now fear that a uniform state treaty on gaming could completely fail. For example, a spokesman from Hamburg also said about the compromise:
Hamburg is for a general ban on online casino games. However, since this requires a unanimous decision by all federal states and this has been blocked by individual state governments for years, a compromise had to be found.
Other countries that have spoken out against the regulation of online gambling have not even commented on the negotiated compromise.
Massive criticism from gambling addiction experts
The Gambling Advisory Board advises the federal states on player protection. The interim solution was clearly criticized because you can see that player protection is falling by the wayside. For this reason, the advisory board demands:
We clearly demand that previously illegal gaming providers will not be tolerated and can only receive a license after a phase of good behavior.
The Gambling Advisory Board also sent a letter to all state parliaments a week. There, the decisions are criticized for deficits in prevention and player protection. It is also criticized that there are no options for examining the regulations. In addition, you are again asked to limit gambling advertising to an absolute minimum. It had even been recommended to start renegotiating the State Treaty.
It therefore remains to be seen whether there will really be a new State Treaty on gaming in 2021 or what a compromise between the federal states might look like in the end.