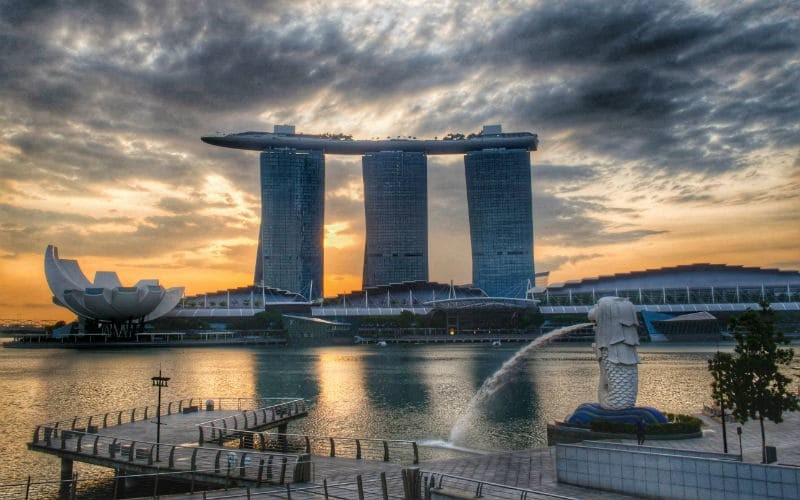 An accountant from Singapore became game-savvy and has embezzled over 41 million dollars in a decade. He used the money to Finance his gambling addiction. 25 years and 10 months he is now in a prison.
Ewe Pang Kooi, an accountant and Liquidator, has had "insatiable appetite for gambling" for a decade. He has embezzled around 41 million dollars (36.5 million euros) to finance the project. The court has decided that the accountant has 25 years and 10 months behind bars. However, his defender wants to challenge the judgment, since his client is already 65 years old.
The accountant was Managing Partner of the Wirtschaftsprüfungsgesellschaft Ewe, Loke & Partners and director of E & M Management Consultants, who offered financial advice and corporate restructuring.
What exactly happened?
Kooi is a resident of Singapore. He was confronted in March with around 50 allegations of criminal breach of trust as an accountant. According to the Singapore Penal Code, it is a serious criminal offence, which can result in a life sentence.
The accountant had betrayed 22 companies and a private individual for the total sum of money. He has carefully prepared and planned his fraud. These included elaboration of complex payment schemes. In addition, there have been many steps to conceal, otherwise his actions would not have remained a decade untimely.
He is said to have spent money from 21 companies to liquidate. For a company, it should only manage the bank accounts. Six subsidiaries of Hewlett-Packard were involved. In these cases, he was able to make payments to creditors (of insolvent companies) or to withhold amounts. At the end of the day, he simply transferred the money to his account. Between February 2002 and July 2012, he used his System to finance his gambling addiction.
The money was spent entirely on gambling. In part, the accountant had set 150,000 euros (about 133,000 euros) per game round to get the right Kick in gambling.
The whole thing fell after HP found problems in the Liquidation of a subsidiary company. The accountant confessed to the company for his gambling addiction and the court process has begun.
Since the Childhood with gambling in connection
The lawyer of the accountant had already informed the court in May that his mandate grew up in Malaysia. From the age of 6 he helped the father to bring betting notes for his illegal bets among the people. This beginning led to a lifelong affinity with gambling, which became addiction when he trained as an accountant.
After graduating from high school in the Malaysian state of Penang, he had worked as a Dealer at Genting Highlands Resorts, Malaysia. He later continued his work at various casinos in Newcastle. He was also trained as an accountant.
From 2002, the addiction became problematic for him. He played on cruise ships and in Singapore at Resorts World Sentosa and Marina Bay Sands. In part, he has made high debts. In the end, he had to use up to 150,000 dollars (about 133,000 Euro) per game round to get the right Kick. The psychiatrist of the accountant admitted in court:
It looks like his gambling addiction has become a life of its own and has clouded his judgment. He did not see a way out, as to surrender to gambling, to stay above water.
Why didn't there be a life sentence for the gamblers?
Kooi is already 65 years old, so he could die in prison due to age. The Supreme Court Judge, Chan Seng Onn, considered this. Nevertheless, he noticed:
It is fair to say that a man's playing habits had a high price for many.
The judge found that around $ 24 million was not repaid. To date, the accountant has been able to pay back € 17 million to the injured parties. Although the higher age has been taken into account in the penalty, the defender wants to try to put down the penalty, so that the penalty does not equal a lifelong penalty.
The public prosecutor had applied for a penalty of 30 years. The prosecutors Hon Yi and Nicholas Khoo, despite the comments on gambling addiction, were of the opinion that it was the bookkeeper's decision to play with his means and steal other people's money. After all, he also lived in a "permanent" hotel room in Sentosa relatively extravagant.
The defense pleaded for 12 to 18 years. His gambling addiction and the attempt to restitution should be regarded as mitigating circumstances.
The judge issued a sentence of 25 years and 10 months. He concluded the negotiations with the following words:
With Remission, the accused can have the Chance to be released before his death. It is to be hoped that he will use this rescue line wisely and use any remaining time (whether in prison or in any other way) to try to recover the extreme severity of his misconduct and the serious financial damage he has done to all, and reflect on the customers who entrusted him with his funds.
The judgment is much harder in Singapore than in the well-known cases of recent years in Europe, which have also dealt with embezzlement. In Berlin, for example, an accountant lost 1.4 million euros. She was sentenced to 3 years and 6 months imprisonment.
In the present case, the sum undersigned is significantly greater. History shows once again that fraud is not worthwhile for the financing of gambling. In the end, you always lose everything, when the fraud first comes to mind.