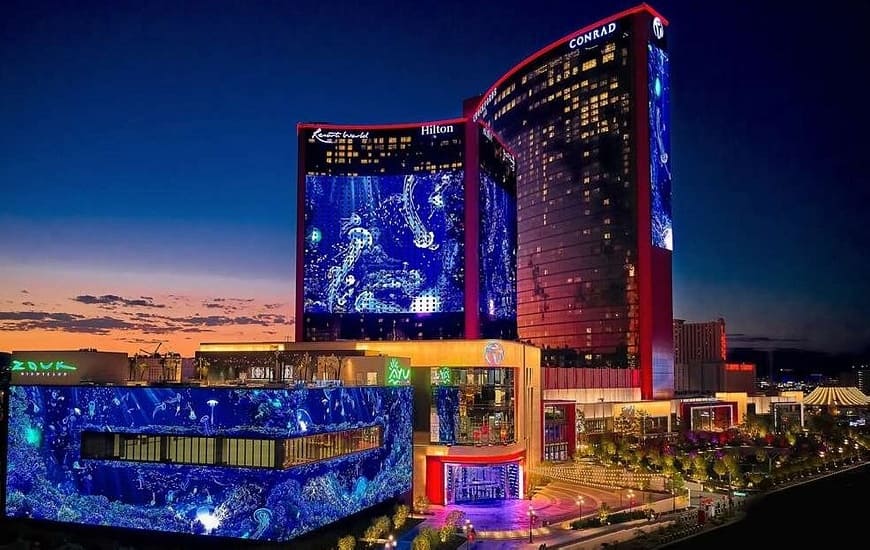 Hardly any other city in the world has as many slot machines as the desert metropolis of Las Vegas. For some time now there has even been an additional "slot machine" of a special kind. Participants can win real cars at this oversized slot machine. But how does this slot machine work and what is the stake?
We reported last summer that the glamorous Resorts World Las Vegas Casino had opened. As it has now become known, a car dealer from Las Vegas has been offering a gigantic "slot machine" for some time, which gives out real cars as prizes.
However, it should be made clear beforehand that this is not a real game of chance. Instead, it is more A marketing gag to attract new customers to the car dealer, but we still wanted to find out how the oversized "slot machine" works and from which slot the profit comes.
Eleven-story glass tower with 39 cars
The vehicle dealer from Las Vegas spared no expense or effort to give its customers an unforgettable experience. If a buyer wants to pick up his car, an employee first gives him a token. He then throws this into a coin slot – as is usual on a "normal" slot machine – and then pulls a lever to start the game.
In the further process, the "jackpot" is triggered with every spin and the (previously purchased) car is brought to the issuing location by elevator. From there it is handed over to the customer. According to its own statements, the dealership aims to offer its customers a "unique experience when they pick up their car". In addition, it is of course no secret that a slot machine is an excellent match for the gambling metropolis Las Vegas. In a slightly older article, we already answered the question of which are the most addicted US states of the year.
More than 20 buyers "play" at the machine every day
The dealership is pleased that the oversized "slot machine" is very well received by customers. In the meantime, more than 20 customers usually receive their purchased cars via the "slot machine" every day. The car dealer also has other branches in the United States where the cars are stored in gigantic glass cases. However, collection via the slot machine is currently only possible at the Las Vegas location.
The dealership in Las Vegas is operated by the used car dealer Carvana. Carvana is an online used car dealer that has been around since 2012. Most recently, the company had around 10,400 employees and generated annual sales of over 5.5 billion US dollars.
Conclusion
Of course it is a funny idea as a buyer to pick up his car via a gigantic "slot machine". However, this is actually more of a marketing gag, because thrills should not arise for the "players" here, since it is already clear in advance that the "jackpot" will be cracked and the car that was previously bought will be handed over will. It will be interesting to see whether the concept will be implemented in other car dealerships in the gambling metropolis of Las Vegas in the future.