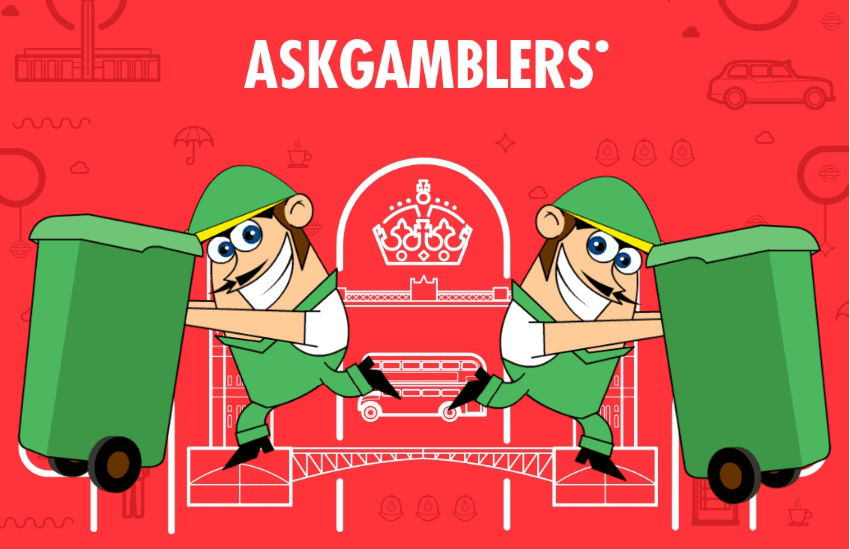 Today we will try to analyze a little the activities of one of the most popular sites dedicated to online casinos – Askgamblers. The information is not the most pleasant, but keeping silent about it is like drowning players like little kittens!
We ask you to share this information as much as possible.
Askgamblers it is not just an affiliate site, it is a whole syndicate for attracting casino players who have paid their rating. From year to year, this site is awarded many prizes, which are unclear by whom they were established and by whom they were invented.
The opinions of smart people about Askgamblers
They are not even shy about buying reviews on sites like Trustpilot. they cannot delete the same-core reviews of people from there, as on their site! Here are some of them:
fake plattform – Is synonymous only a platform that can be well paid to make fake reviews.
I would like people to know that this… – company is worse than useless. I have a few encounters with the now. First of they encourage reviews, then remove any reviews that are critical of the casino. So much for freedom of speech! Basically, askgamblers is a fraudulent company making money promoting casinos and if you have a genuine problem they could not care less. I would not visit their website as if you have a problem with casinos they promote they wont care.
These people are affiliates to online casinos – Askgamblers are affiliates to all the big online casinos. Any complaint from a punter that is legitimate and that should be taken seriously is declined. They are in it for the referrals to these casinos and to make money for themselves.
Avoid Askgamblers if you want a good casino – Formaly known as an objective review site. This site should not be able to operate anymore, please use independent sites
Not well respected in the gambling… – Not well respected in the gambling community. Constantly reject complaints and conveniently have offers and promote rogue casino you try to complain against.
The list of such quotes we can go on endlessly, but you already understood everything. Yep?
Some about Askgamblers Ratings and "Casinorank" system
In short – you can show all the honesty and veracity of the ratings with just one picture.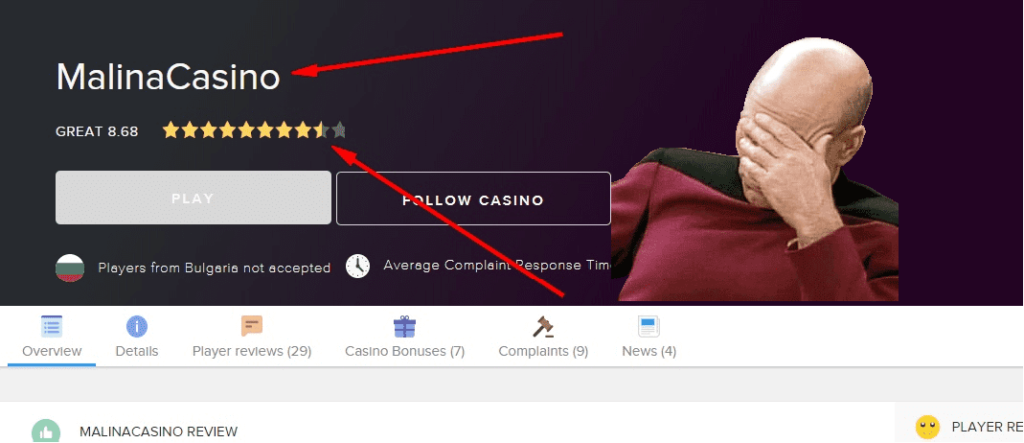 Those players who have experienced casinos like Malina already know well that the player there is a machine for making money. Payouts of winnings are made in weeks or not at all. And at Askagamblers such casinos you can find more than a dozen, and maybe even not one hundred. And each of them has a very high rating. Paid Rating.
The only thing we won't argue with them is that Bitstars is a really great casino. Their rating is deservedly high at Askgamblers
Players Reviews
Feedback from players on the Askgamblers.com website is a different story altogether. You cannot write a truly negative review. It will either be instantly deleted or not published at all. That's exactly how ratings are compiled on the Scamgamblers Askgamblers website.
Go to the Facebook page Askgamblers is a scam. There you will see how they support blacklisted casinos sending unsuspecting gamblers to them only to be ripped off by ambiguous terms and conditions. Askgamblers DICTATE how you can complain against a casino and you can not do so unless you join them and give them your personal info? NOT! They have a vested interest to protect casinos they advertise for they should be removed from YouTube and Facebook as they are assisting in the commission of fraud against gamblers around the world.
Askgamblers Awards
Recently, Askgamblers have imagined that they can give out rewards for casinos. It is not so important that receiving a reward depends on the amount paid. But now they still give prizes for affiliate programs. Oddly enough, the worst, most dishonest and most fraudulent of them are victorious.
There is a short video about this. The truth in which only the black guy will tell at the very end of the video. Enjoy watching:
Real affiliates and gamblers who dealt with 7 Stars Partners and their casino brands know that there is no worse place to play and earn money.
Askgamblers.com mission
They love themselves very much and love to rush with beautiful words so that you feel that you are an important and necessary person.
AskGamblers is on a mission to provide current and accurate information about online casinos worldwide, as well as offer players the opportunity to resolve their issues transparently. We are to push boundaries and keep inspiring this whole industry to honour players, work for them, and deliver the best service there is.

It looks like a dirty lie on their website
And they also voiced immediately 5 slogans that should convince you of their honesty. We will comment on each of them.
| | |
| --- | --- |
| Trust – Knowing the importance of trust, we strive to make it an inseparable part of this industry. | You do not have confidence! All your trust has been sold! |
| Independence – AskGamblers is objective, independent and true to its users at all times. | Independence is not about you. You cannot be corrupt and independent at the same time. |
| Quality – Driven for excellence, we aim at delivering the highest possible quality of service. | Quality service for the casino, but not for the players. Who pays, he orders the service. |
| Fair play – Everyone deserves to be treated equally and fairly. It's simple as that. | Askgamblers is an antonym of Fair Play. This has long been known. |
| Transparency – Information should be available to everyone; hence we deliver it in a clear-cut way. | Fifth lie in a row. 5 out of 5 slogans are bullshit for morons! Bingo! |
Conclusion
We highly recommend that you do not use the Askgamblers for choosing online casinos, complaints etc. However, we cannot forbid you to do this, so we recommend that you be careful and prudent.
Thanks for attention and sharing with other gamblers.