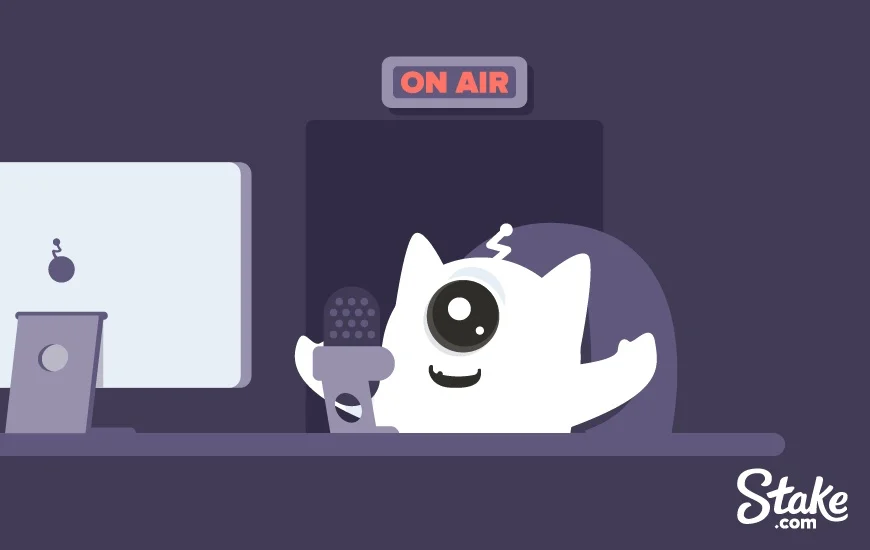 We have already reported several times in the past about the successful casino streamers on Twitch. In the past, the big streamers Roshtein, TrainwrecksTV and MontanaBlack made a lot of money with their live sessions. It is noticeable that over time more and more streamers landed on Stake.com. We tried to clear up the background.
As early as August of this year, we asked ourselves in an article whether casino streams on Twitch will soon be banned. Recently, several well-known Twitch streamers announced that they would voluntarily stop the casino streams. Nevertheless, there are still many casino streamers, some of whom play online for thousands of euros or dollars. But how can you explain that a large part of the gambling streams take place in the Stake.com online casino? After all, there is a high three-digit number of alternative providers in the world alone.
Twitch streamers are increasingly turning to crypto casinos
We wanted to find out why Stake.com is so popular among casino streamers. To do this, we first registered ourselves in this online casino without making a deposit. We quickly noticed that Stake.com is a pure crypto casino. This means that deposits and withdrawals can only be made here using cryptocurrency. You can choose from the following digital payment methods:
Bitcoin Cash (BCH)
Dogecoin (DOGE)
Ripple (XRP)
Tron (TRX)
EOS (EOS)
Alternative payment methods such as credit cards or e-wallets are not available for German players. Accordingly, the stake player can only make pseudonymous deposits with cryptocurrencies.
In addition, at Stake.com we were able to choose from a gigantic game portfolio. To be more precise, 2,015 games were available at the time of the test, most of which came from renowned providers such as Play'n GO, NetEnt, Yggdrasil or Evolution Gaming. As a casino streamer, there is enough choice here to be able to offer its viewers new, interesting gaming sessions on a regular basis. It should be said that some other online casinos also offer a comparable game portfolio. Incidentally, Stake.com has a gaming license issued by the Caribbean state of Curacao. We inform on GambleJoe about the advantages and disadvantages of the so-called Curacao casinos.
Why are streamers playing on Stake.com?
It seems obvious that many casino streamers play at Stake.com as it is a crypto casino that does not deposit or withdraw real money. Many a casino streamer certainly hopes that this will give them an advantage in threatened legal disputes.
In addition, it seems likely that the management of Stake.com will make attractive offers to the gambling streamers if they play there. After all, a casino streamer with a large reach is an attractive way for any provider to attract many new customers. Out of interest, we turned to the management of Stake.com and initially received the following answer:
"Thank you for contacting us. We are always interested in sponsoring and possible collaborations. (…) Please make sure that (…) you attach a link to your channel and leave your Stake username (…). Thank you again for contacting us. "
Unfortunately, we did not get in touch again when we asked, because of course we could not name an existing Twitch channel with the appropriate range as requested.
Overall, many streamers often cannot resist the financial incentives offered by online casinos. For example, as the news portal T3N reported some time ago, influencers with a corresponding reach should be offered the equivalent of tens of thousands of dollars per hour by the crypto casinos when they play with the respective provider.
As the portal further reports, the crypto casino Duelbits is said to have offered the streamer Adin Ross around two million USD per month if he streams in this online casino. The streamer is said to have rejected the offer.
Which casino streamers play at Stake.com?
What is striking is the fact that the number of casino streamers playing at Stake.com has skyrocketed recently. But which streamers are currently playing at Stake.com or have they done so in the past?
Roshtein
The Swedish gamer legend Ishmael Schwartz currently has more than 790,000 followers on Twitch under the pseudonym "Roshtein" (as of September 2021). The experienced casino streamer has been playing in Stake.com's online casino for some time – and is apparently happy here too. In the meantime, Roshtein was temporarily banned from Twitch in August 2021.
TrainwrecksTV
Originally, the streamer TrainwrecksTV began its career with shooters like Call of Duty. In the meantime, however, he has clearly placed his focus on the casino streams – and also plays at Stake.com. TrainwrecksTV has a penchant for bonus hunts, of which Stake.com has plenty. The entertainer, born in the USA in 1990, now lives in Canada. He currently has over 1.6 million followers on Twitch.
MontanaBlack
In the meantime, the successful Twitch streamer MontanaBlack has announced that it will stop streams from the casino. Most recently, we covered rumors that MontanaBlack may return to casino streams. He has been seen many times in the past on Stake.com.
Conclusion
Stake.com's popularity for casino streamers is due to a number of reasons. On the one hand, it is a pure crypto casino, so that no real money has to be transferred. Instead, deposits and withdrawals are made exclusively via crypto currencies such as Bitcoin, Dogecoin or Litecoin. On the other hand, the management of Stake.com seems to be making an offensive effort to actively address successful casino streamers and to offer lucrative collaborations. In any case, Stake.com's presence in the world of casino streams is striking. The question of whether the casino streams on Twitch will remain possible in the future and how the streamers intend to comply with the legal requirements in the individual countries remains exciting.